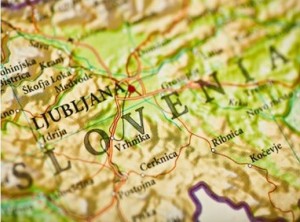 Slovenia is the only country in Europe that combines the Alps, the Mediterranean, the Pannonian Plain and the Karst. The changing landscape is constantly surprising, time and again. You can have one eye on the sea, then look in the other direction and be surrounded by high mountains. Heading up into the forests, you can see the green plains below you. From upland meadows your view stretches into river gorges. This proximity of opposites and contrasts is a hallmark of the country.
Slovenia lies in the heart of Europe, where the Alps meet the Mediterranean and the Pannonian Plain meets the Karst. This small country is home to sincere, hospitable people of great diligence. Read more …

---
In the heart of Dolenjska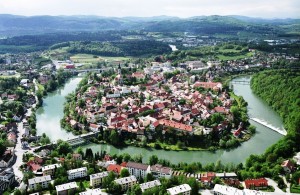 Novo mesto, also called the metropolis of Dolenjska, was founded in the year 1365, when the Austrian Archduke Rudolf IV granted city rights to the town at the bend of the Krka River. Officially called Rudolsfwerd, it grew as Novo Mesto and soon became an administration, cultural, religious and business center of Dolenjska. Novo Mesto is situated in the midst of the hilly landscape of Dolenjska, embraced by the Krka River.
Abundance of nature, tradition and culture can be a real experience for every visitor of Novo Mesto. The Krka Valley, located just above Novo mesto, is in the opinion of many the most beautiful river valley in Slovenia with tender banks, picturesque rapids and natural dams which emphasize its nature. Read more …
---
About Dolenjske Toplice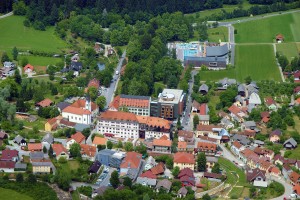 The starting point of the Podgorjanska Wine Road
The name Dolenjske Toplice derives from the Slovenian term for thermal springs, toplice. The main activity in this area with a population of 3,200 is centred on tourism, which is driven by the local spa and picturesque scenery. Dolenjske Toplice is the starting point of the Podgorjanska Wine Road, and there are other theme routes as well: the Dormouse Hunting Trail, the Rožek Forest Nature Trail, the Archaeology Trail, and others.
Relics of prehistoric times
The earliest written reference to Dolenjske Toplice dates back to 1228, and archaeological evidence suggests that the Cvinger Hill, west of where the inhabited area is today, was home to a well-fortified settlement as early as the 5th century BC. The earthworks of this former outpost on the route between the River Krka valley and the region of Bela Krajina are still clearly visible today. Read more …
Dolenjske Toplice is surrounded by picturesque winegrowing hills and the region of Dolenjska is famous for Cviček, a wine with a protected designation of origin and low alcohol content. The wine is widely believed to have therapeutic qualities.